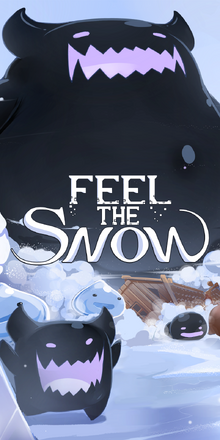 Welcome to the Feel The Snow wikia page! if there's something we've missed, please give a helping hand by adding the page yourself or asking one of the main contributors of the Wikia to add it. The game is very new and not everything is fully fleshed out yet so the information on this Wikia is subject to change. Thank you for visiting we hope this site helps you!
Join our unofficial community discord!
A massive patch has been released, full details can be seen below! (2019/07/02)
https://steamcommunity.com/games/538100/announcements/detail/1598131010004448040
Now it's possible continue the company after big updates (Previously had to start a new game).
Introduced a new location "Island of the Damned".
Finished the storyline of the game.
Added new weapons.
Added new types of accessories giving interesting abilities. (vampirism, call of minions, etc.)
Added night merchant who sells useful scrolls.
Added mounts. (Not many).
Added new treasures in the Ice Cave and Sunglade.
Slime farm can now be created.
Added new species of nightmares that begin to attack from the 30th day.
Now the lamp needs less fuel.
Fixed sticky keys after the resurrection with an ice cream and after dying on a ship.
Fixed bug when the owl could not attack bosses.
Added some decorations for houses.
Improved network connection to the game.
Added some achievements.
Many of other small fixes.
Community content is available under
CC-BY-SA
unless otherwise noted.